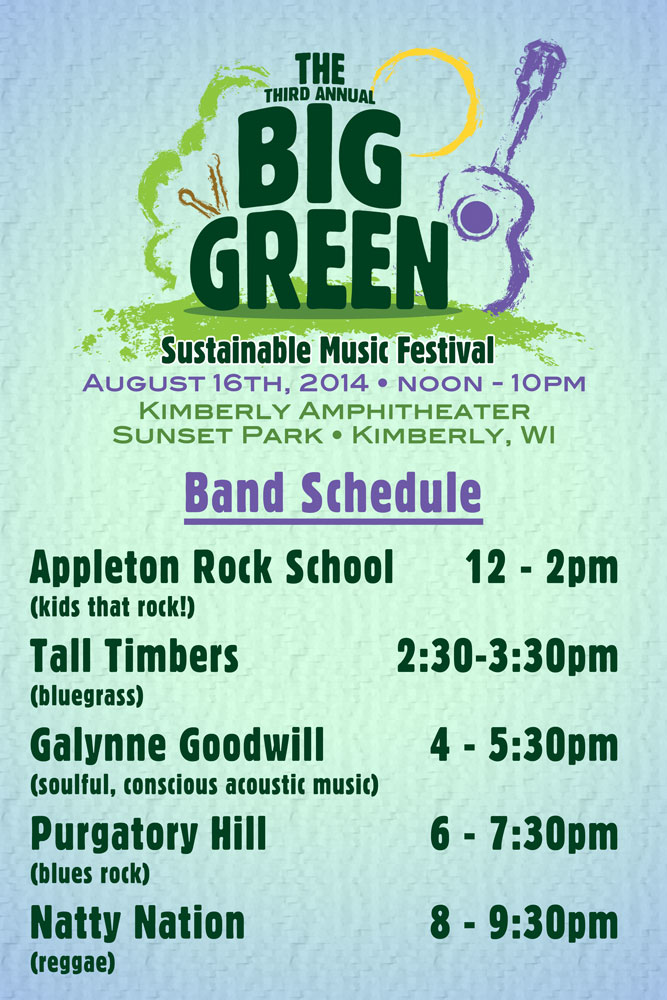 Mark your calendar for Saturday, Aug. 16, 2014 for the 3rd Annual Big Green Sustainable Music Festival.
Come help plan the party! Bring your friends, too! Find us on Facebook!
Numerous volunteers from last year's event are returning to help spread the message that healthy, fun, thriving — sustainable — communities start with us. Our heartfelt thanks for their inspiring accomplishments in 2013:
More than 800 people attended
Only slightly more than half an ounce of waste per attendee went to the landfill
A great time was had by all
Thanks, too, to The Community Foundation of the Fox Valley Region and all our sponsors, vendors and exhibitors for sharing the vision of a sustainable future.
As The Big Green grows to become one of SFV's main fundraisers, we are working tirelessly to create opportunities that offer our volunteers a truly exceptional experience. Please spread the word — from leaders to heavy lifters, all help is welcome.
photos by Adam Z Anderson
Get ready Fox Cities residents! The Second Annual Big Green: Sustainable Music Festival is getting ready to take center stage at Sunset Park in Kimberly on August 17, 2013 from 10:00 a.m. - 10:00 p.m.! The festival features live music, local food and marketplace, handcrafted beers, workshops, kids activity area and exhibits. This near-zero waste public festival raises awareness of sustainability, encourages community involvement, supports diversity, and enhances our creative culture.
"The Big Green (TBG) is a great way to bring the community together to learn about sustainability in a fun and exciting way," stated Ali Koestner, TBG's Vending Coordinator. Koestner also supports BYOB (Bring Your Own Bottle). "You can refill your bottle for free at our Bottled Water Killer refilling station. It is a great way to stay refreshed while maintaining the festival's near-zero waste goals". Don't worry if you forget your reusable bottle TBG offers reusable, foldable bottles at a very reasonable price.
In 2012, 70% of the waste generated at the festival was either composted or recycled. Less than one ounce of waste per attendee went to the landfill. This accomplishment was done by strategically placing Compost Recycle Trash (CRT) stations throughout the festival grounds. "We hope to continue the success we had in waste reduction at last year's event," said Chris Miller, Outagamie County Recycling Coordinator and TBG's Green Waste Coordinator. "Our plan is to reduce our landfill waste by 10%, while increasing our recycling and composting rates by 10% from 2012."
New this year, TBG Festival team will be leading our region in sustainable event management by applying the ISO 20121 Sustainable Event Management System Standard. "This means all applicable environmental, social, and economic issues involved with our event have been identified", said Joanne Gorski, President of Sustainable Insights LLC. "We have objectives and targets in place to manage all significant issues in a manner consistent with the principles of sustainable development and have published a Sustainable Event Policy to clearly communicate this to all interested parties."
Sarah Lauer, TBG Event Chair, commented, "It's amazing to see so many people in our communities respect one another and the environment we live in. TBG is just a piece of the miraculous puzzle that helps assure our future generations thrive."
Save the date, this August 17th to come out and taste amazing locally sourced food, shop unique and local merchandisers, attend an educational workshop and listen to an amazing lineup of local bands including The Chris Aaron Band, Ifdakar, Unity... the Band, Dead Horses, and Evergreen
To buy tickets or learn more about Volunteering, Vending, or Sponsoring, please visit thebiggreenfest.com or find us on Facebook.
Proceeds from the event benefit Sustainable Fox Valley, a non-profit 501c(3).